3. Feedback & Revision
Getting feedback isn't about receiving praise. Don't look for it. Getting feedback is about discovering what works and what doesn't.
If something isn't working, of course you need to act on it. But you may also want to act on what is working.
When you're writing through, you're so close to your story that you can be as blind to your successes as your failures. You need someone else to show you the wood for the trees. A particular character has really taken off, a particular narrative twist is so effective.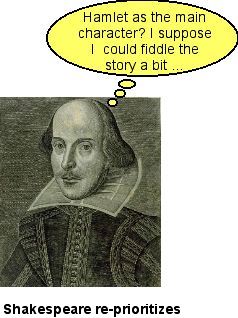 Not that other parts of the story are weak, but those parts are outstanding.
Here's where you may want to re-prioritise and give more weight to a particular character or narrative twist or whatever. Perhaps more build-up to the twist, perhaps more interest directed upon this character in the thought and speech of others. Let your successes have their full value!
With short stories, priorities are especially important. Whereas a novel allows room for the free development of many characters and narrative angles, a short story is much more focused. Minor notes have to be ruthlessly subordinated to the major note—a revelation, an insight, a single turn of events.
Feedback from readers/other writers/editors can help you locate that major note and make it ring out loud and clear. Perhaps it emerged only late in the process of writing, perhaps you never realised how crucial it was, perhaps you muffled it in the telling. All of those things keep happening to me—the muffling most of all! When I revise a short story, there always seems to be some re-prioritisation involved.