2. Middles
The beginning of a novel is tight—so much to fit in, so little time. It's like a torrent channelled through a narrow gorge. Then the walls fall away and there's a wide flat plain, with room to move, room to meander. The climax is still far, far away. You've come to the middle of the novel.
Now you can relax, develop your characters, follow up interests. Your story can spread out into sub-stories. But beware! You can relax too much.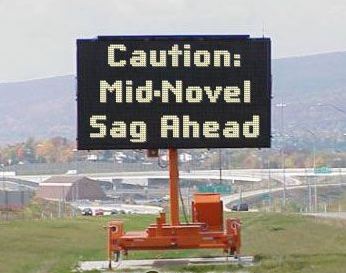 The beginning of a novel is hard to write, but at least the difficulties are visible and you know what you have to do. The middle is the most treacherous stretch because it can look easy when it isn't. You can go wrong here and only find out later that you've run into the doldrums.
This is the deadly zone of mid-novel sag!
I recommend a pause and a taking stock. For me, there's always a moment, 10-15,000 words in, when the tight opening sequence of scenes runs out. Suddenly, everything is possible and nothing is necessary. So many angles to follow—but which one first?
So I take a deep breath and gear up for the long haul. I re-think and re-plan until the feeling of necessity comes back in. Yes, this is the way it has to happen! This is the way it did happen!