2. Setting
| | |
| --- | --- |
| | viii) MAKING IT FRESH IN FANTASY |
For fantasy authors, the danger is relying on standard pre-established fantasy elements without bothering to make them fresh. I believe it's a plus for a fantasy author to invent something truly original, but I don't see anything wrong with using towers of glass, dragons, half-conscious forests, underground cities, etc etc.—so long as you imagine them from the grass roots up.
That's what's so great about Lord of the Rings. No one had ever tried to put traditional elements from myth and saga into the up-close-and-personal form of a novel before (okay, William Morris, but almost no one). So Tolkien couldn't take anything for granted; he had to do it virtually for the first time.
Nowadays, fantasy authors bring a whole huge accumulation of up-close-and-personal novels and films to their writing. But it still matters to do it as if for the first time.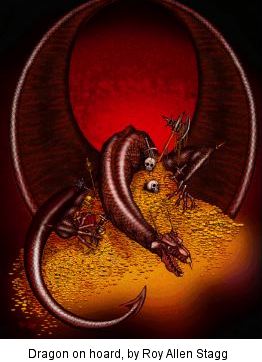 Take a dragon's lair, a treasure-filled cave (leaving the dragon out of it for the moment). Not exactly an original setting, but an author can still come up with fresh details.
How would it look, sound, smell, feel? Maybe there are deep scrape-marks gouged in the rock by the dragon's claws. Maybe a residual smoky smell from the dragon's breath. Maybe a tarry, sooty residue on the treasure where the dragon would rest its jaws. Maybe some precious items of gold and silver have been buckled by the heat of the dragon's chest.
It doesn't matter whether some of those details have been used before, an author can still make them fresh by imagining them as personal experience, as if for the first time. Lazy imagination is second hand imagination; active imagination creates from the grass roots up.