3. Contracts, Production, Promotion
Wouldn't we all love to have our books featured in TV commercials, taking up full newspaper pages, plastered across hoardings and the sides of buses? That's what jumps into our minds when we think of advertising. But it's not going to happen.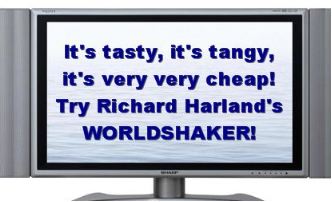 In the first place, the book business isn't that profitable. Only the best of best-sellers could recoup the cost.
In the second place, you'd be advertising to a total population, when only a small proportion will actually buy books—and an even smaller proportion will buy books of a particular genre such as fantasy.
Side-note. The kind of people who buy books probably aren't the kind to be influenced by heavy-handed advertising anyway. You'd get their backs up if you simply told them what to read.
But even if money were no object, general advertising wouldn't work very well. Take yourself as a sample case: what makes you buy a book? Just out of curiosity, I might buy a book once if I saw the title splashed across the media—but once would be the limit. Books aren't like margarine.
Margarine is something that everyone has to buy and keep on buying, with only a few brands to choose from. So, the adverts try to lodge a particular brand and its benefits in our brains. A book is more like a luxury item—a special sort of luxury item that also makes demands on us. That is, it's going to use up many, many hours of our time, it requires a commitment. Would you buy a book just on the off chance of enjoying it? Most of us need some strong reason to believe that we will.
General advertising could only be justified with an established best-selling author, when the adverts aren't persuading people to try the book, so much as notifying them that his/her latest is now out in the shops.
As for new authors, no one's really sure what will sell, so publishing houses bring out far more titles than they can support with promotional campaigns. It's been called spaghetti theory: throw a plate of spaghetti against a wall and see what sticks. The promotion will come in later for the few authors who manage to stick.