1. Action
Chunking is a word I use to myself, but it's not easy to explain. It's when you draw a lot of small, bitsy incidents into a single large development.
Maybe the best way to get into it is with an exercise I use in creative writing workshops. I set up a scene; get everyone to suggest possible bits of business; then we work all together to chunk those bits into a single development.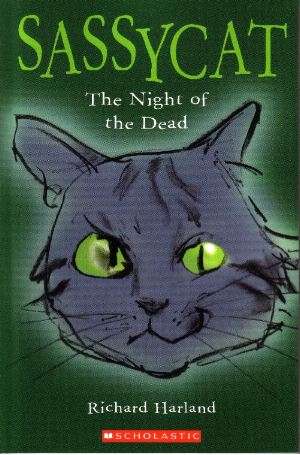 Usually, I borrow a scene from one of my own books (because it's easier—and helps promote the book!) For example, the ghosts-in-the-bedroom scene in Sassycat, where Rebecca sees flat shapes like shadows approaching, jumps into bed and hides under the sheets. What next? Here are few possible bits of business:
- the air turns cold
- there's a mouldering, musty-earth smell
- the shapes run down the bedroom wall like black paint
- Rebecca buries her head under her pillows
That's only a fraction of the possibilities people will come up with – but let's keep it simple. Now for some chunking.
Rebecca under the sheets smells a musty-earth smell—what is it?
So she peeks out and glimpses something on the wall.
The more she looks, the more she's afraid of what it might be, but she has to know too.
So she sits up in bed for a better look.
And discovers it's the same shapes she saw before, running down the wall like black paint.
At the same time, by sitting up, she realises that the air's become unnaturally cold.
She plunges back under the sheets and buries her head under her pillows.
There could be many others ways of making one thing lead to another, equally good or better. What matters is the general principle: to work bits of business together rather than play each to the max on its own.
Here's another example. Talking about memorable action in a duel, I suggested that:
- one duellist, wounded in the leg, has to fight on while standing or half-kneeling on a single spot
- one duellist has the rapier flicked from his hand and has to scrabble to re-gather it before his opponent can deliver the coup de grace
- one duellist traps and immobilises his opponent's rapier under his armpit
Chunking them together, we could have:
- Duellist A traps B's rapier under his armpit and twists, ripping it out of B's hand
- So duellist B goes scrabbling to re-gather it, snatches it up just in time
- But B still takes a terrible cut to the leg, so that he can only fight on half-kneeling.
Not so clichéd? The scrabbling-for sword-on-ground and rolling-aside get absorbed into a larger arc of action, and this larger arc of action at least hasn't been done a hundred times before.
I guess this is choreography on the other side: not having a knot of action that you need to unfold by stages, but having many bits of action that you turn into a single unfolding. It's something I always look to do where I can.