1. Action
Prepositions! I love 'em! And so does the English language. What other language makes such a habit of putting prepositions after verbs? 'Strike out', 'lift up', 'swing round' …The verb tells the action, but the preposition adds extra oomph. I think of prepositions like the whoosh-lines in comics and graphic novels that convey the speed of the fall, the force of the blow, etc.
Look at it logically and, yeah, you could often leave out the prepositions and still communicate the same content. 'They lift up the massive beam', 'He sat down on the nearest chair', 'She swung around to face the sudden sound' … how could they lift if not up, where could he sit if not down, what way could she swing if not round? A word-paring haiku poet would cut back on prepositions without hesitation. But then word-paring haiku poets aren't in the business of conveying action.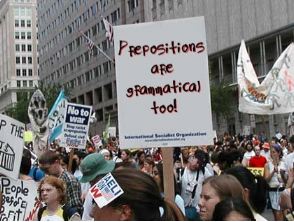 Something gets lost when you strip out the prepositions. It's not the content of the action, it's the feel of it.
'She swung to face the sudden sound'
'She swung round to face the sudden sound'
The preposition is the gesture that puts you inside the movement and makes you live it.
(And even when it's not a literal action, isn't there a sort of hidden body language in phrases like 'think through a problem', 'give up on a plan'? I don't know, but something makes me want to gesture with arms and shoulders as I read!)
There's a world of power in prepositions! The action writer's greatest friends!