5. Pacing
Word-time isn't story-time. A novel can take 1,000 words over an event that lasts 10 seconds, or 10 words over events that last 100 days. My natural instinct is for film-like, moment-by-moment presentation—I write dramatic scenes very easily. I find it harder to move quickly over time, covering days or months or weeks in relatively few words.
I guess that's why the time-span of my stories tends to contract rather than expand. I have no difficulty in making things happen faster, compressing events into a smaller number of days. Most of my novels take place within a couple of weeks, a couple of months at most.
It's when I have to move quickly over time that I get nervous and start to baulk.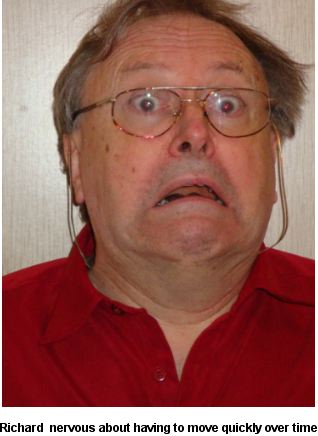 Similarly within dramatic scenes … there are always places where you need to move more quickly over time. Repeated actions, for example. If Harry is setting up a tent on stony ground, you can do a moment-by-moment presentation of the difficulty of driving a tent peg in—searching for a convenient crack, cursing, swinging the mallet. Fine. But there are still at least another three tent pegs to deal with. Do you really want to go through the same moment-by-moment presentation again and again?
There's a similar problem when characters are walking across a landscape and encountering strange sights—which is a very common scenario for fantasy writers. The trouble is the length of walking-time between a first distant impression and a final close-up. All the way, the impression keeps coming clearer—but how many moments of coming clearer do you want? You need a way of moving quickly to the close-up.
I know only two basic strategies for moving quickly over time. One is to tell the passage of time, the other is to let time lapse in gaps.