3. Climax & After
| | |
| --- | --- |
| | (iii) ON NOT RUSHING TO THE END |
I have a pet hate—novels that sell themselves short with a rushed climax. Why? This is pay-off time, where reader and author both get their reward. Why are so many endings hasty and breathless?
Perhaps it's impatience, when the writer sees the finishing line ahead and can't wait to have done. Perhaps it's a mistaken idea that events have to be told fast because they're happening fast. Whatever the cause, it's a waste.
Granted, a climax is no place for sideshows. If possibilities you've planned turn out not to fit, then junk them. Everything has to work together in the climax.
But what you do have—give it full value. Take in all the angles, describe as thoroughly as you would in any other part of the novel. Maybe even more thoroughly, in slow-mo … After all, the climax is one time when you have your readers in the palm of your hand. Here at least, you can be absolutely sure they're not going to toss the book aside.
I admit, I love big rolling climaxes that keep on unfolding for 50-100 pages. I set up my novels to produce them. But any kind of climax should still be allowed to grow to its own proper length.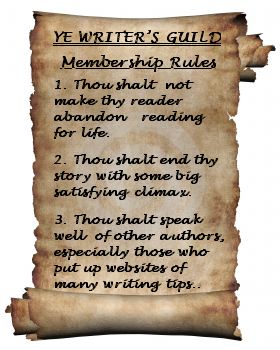 I reckon every writer owes it to other writers not to leave the reader with a sense of dissatisfaction at the end. First duty to the writers' guild: your book should end in a way that makes the reader eager to get stuck into another book, someone's book, anyone's book.