3. Climax & After
How long should a novel run on after the climax has peaked? Do you need to spell out consequences that readers can probably work out for themselves? Some novels deliver the bang of the climax, then pull down the curtain almost immediately.
Me, I like a scene or two to wind down with. I mean, a scene or two set later in time, a little detached from the climax, when the effects have sunk in. I like the afterglow mood, the satisfaction of success, the feeling of having lived through great events and come out on the other side.
The Lord of the Rings demontrates a range of ways of winding down. First, there's the chapter of celebration and triumph, "The Steward and the King", then the chapter of farewells, "Many Partings". All very afterglow-ish (though personally I'd have preferred a focus on a few well-chosen scenes with a bit less overall telling).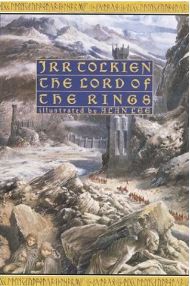 Then there's the long tailpiece of "The Scouring of the Shire", a whole extra story in minor key. It's like a secondary ripple after the great surge has passed. The novel's main protagonists, Frodo and Sam, stay out on the sidelines, and there's no real sense of jeopardy for anyone. We know Lotho and Sharkey are going to get their come-uppance. "The Scouring of the Shire" rates high in satisfaction, low in unpredictability.
Finally, there's the chapter "The Grey Havens", where Frodo, Gandalf, Bilbo and the elves are leaving Middle Earth for good. It's elegiac rather than triumphal, sad yet necessary. The mood is one of aftermath, if not afterglow.
I like what Tolkien does, but I'd never attempt to spend a whole 80 pages doing it. I'm sure my editor would be asking for cuts. It's not surprising (though Christopher Lee wouldn't agree) that Jackson's film version skimmed the post-victory celebrations and farewells, and, notoriously, dropped "The Scouring of the Shire" altogether.