1. Preparation
| | |
| --- | --- |
| | (iii) READING FOR INSPIRATION |
Reading widely is good for ideas too—better than the visual media, because you have more time to let the what-if side of your mind roam wild and free. I admit, I don't mind at all when books suggest ideas but fail to develop them. That's where I jump in! Selfishly speaking, I'll take an inspiring failure over an uninspiring success any day.
Getting totally swept away by one particular novel or author probably isn't a good thing. It could be necessary thing, a stage we all have to go through, but you don't come into your own as a writer until you emerge on the other side. So, right, work through that that Da Vinci Code obsession or that Harry Potter phase—for me, it was Edgar Allan Poe and The Lord of the Rings—but keep reading other stuff too. A single influence is a bad influence!
I always suggest reading beyond one's own genre. I wish I had more time to do more of it myself. Everything I write is speculative fiction, most often fantasy, but my characters are as likely to be inspired by characters in crime fiction or family drama or biography.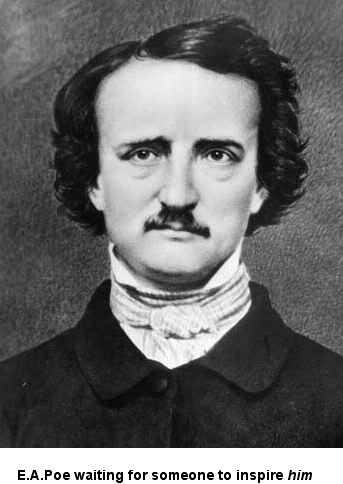 (Or half-inspired—more on characters later)
For a fantasy writer, historical non-fiction can be a great source of inspiration. If you write at the historical romance end of the fantasy spectrum, you'll be doing research into a particular period anyway. For general fantasy ideas, though, I recommend reading the histories of many periods—and reading in a what-if state of mind.
Reading widely is good for the SF writer too, but there are also special reasons for keeping up to date with what's happening in SF itself. More than any other genre, SF depends upon new ideas and leaves old ideas behind. No amount of character-depth or interesting action can redeem an SF story about a man who travels back in time and kills his own grandfather. The idea's been used up—move on! Or, add a new twist that no one's ever thought of before. Which means, again, that you need to find out what's been already thought.
As for where-ideas-come-from, okay, I still haven't answered the question. Can someone please hurry up and develop that high-powered meditation technique …